Print Friendly Version
Today I'd like to introduce and welcome ChinDeep sponsor, The Crystallized Flower Company!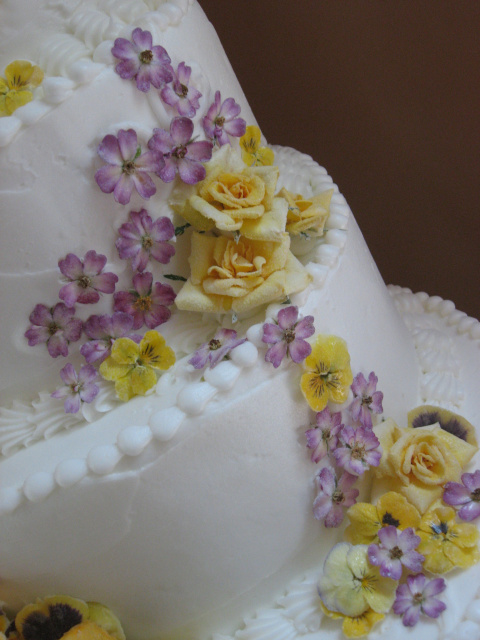 About the Crystallized Flower Company, and proprietress, Karen Toochek:
The Crystallized Flower Company is home-grown out of Willoughby, Ohio. All of their edible blooms are grown naturally, free of harmful chemicals, pesticides, or growth hormones. They believe that deliciously edible flowers begin with incredibly grown flowers! Their quality control is guaranteed with every magical bloom that they produce!
Karen Toocheck, owner of the Crystallized Flower Company, grew up in the rolling hills of southwestern Pennsylvania, falling in love with nature and growing things at an early age. Her father's career relocated them to north east Ohio in the late 70's where she currently resides and runs her organically grown, edible flower company.
Karen pursued two passions in her life, building things and gardening. While growing up, she was intrigued by her father's hobby for woodworking which, eventually, inspired her life choice. She pursued the career of a Union Carpenter. In 2004 she began moonlighting on weekends, growing and selling flowers at various local farmers' markets.
Karen's awareness of rising environmental issues led her to approach gardening in a whole new way. The concept of her company began in the spring of 2008. It was officially founded November 21, 2008. The Crystallized Flower Company grows edible varieties of flowers. All of the flowers are grown by them, keeping sustainability in mind and implementing organic methods to produce the most beautiful stock plants and blooms.
Karen's flowers have graced plates and palates from the east coast to the west coast. They have enchanted cakes for the Washington Ballet and one caterer, in the Washington D.C. area, told her Hillary Clinton has even nibbled a few petals. More recently, they were served to former President George W Bush and his Cabinet, by Zach Townsend. Owner of 'Pure Chocolate Desserts By Zach', out of Carrollton, Texas.
Edible flowers have been eaten for thousands of years and can be traced back to The Roman Era. They were especially popular during the Victorian Period. But today, edible petals are finding their way back into our hearts and on our plates once again. We are seeing them as an organic, healthy, local way to eat. Almost nil in calories and a sourceful of trace minerals, vitamins and anti-oxidants! Did you know that deep orange petals may contain beta carotene and potassium? Yellow flowers are a very good source of vitamin A. Roses are high in vitamin C and anti-oxidants. Pansies are rich in vitamin A & C and are a source of rutin, which benefits the cardiovascular system. Pollen is full of protein.  Nectar is composed of sugars and trace minerals. We are not saying we have cornered the market on healthy eating… but every inch helps!
ChinDeep ~ I am a professional food photographer and have personally been using The Crystallized Flower Company's edible, crystallized flowers for a few years now. I absolutely adore these pretty blossoms. They add so much magic and beauty to everything they touch! Thank you for your gorgeous creations Karen Toochek and Crystallized Flower company! ~Melissa
GO HERE TO SEE MORE BEAUTIFUL, CRYSTALLIZED FLOWERS!
GO HERE TO SEE CUSTOMER REVIEWS!
Thank you Crystallized Flower Company!
~Melissa
You may enjoy these related posts: