Print Friendly Version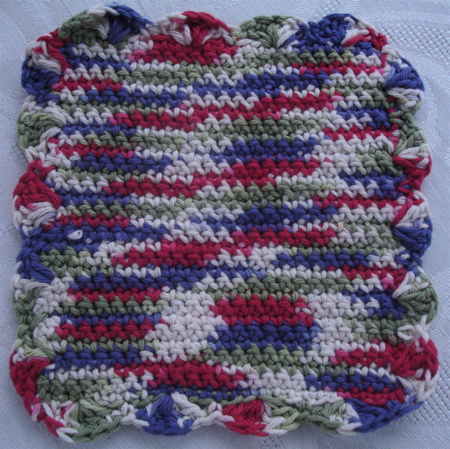 These little hot pads crochet up quickly and make a nice addition to a gift basket or a hostess gift. I sort of made up the pattern, so it's not exact, but I can give you the basics.
I made a base chain of 23-25 stitches and single crocheted the entire body of the hot pad so it would be thick and tightly woven. (I've never really understood these patterns that make hotpads with holes in them…they're pretty, but not practical.)
When my hot pad measured the same lengthwise as it did widthwise, I started a scallop edge using the shell/fan stitch. (you'll be able to fit 4 scallops on each edge.)
When you get to the end corner, feel free to chain 6 or 7 stitches to make a hot pad loop. I didn't, because I don't hang my hot pads on the wall. 😉
*note: the yarn used for this particular hot pad is 100% cotton, color–field of dreams brand– sugar 'n cream
Have fun!
~Melissa
You may enjoy these related posts: