Print Friendly Version
"The most beautiful prospect that the imagination can form." ~Johnathan Carver, eighteenth century explorer, describes the view from Red Wing's Barn Bluff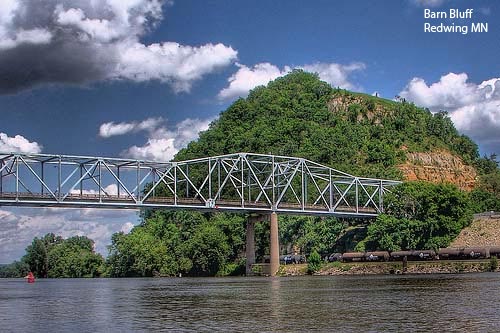 When I went online in search of  interesting facts about the beautiful bluffs in Red Wing, I was overwhelmed with the amount of information out there! Like I said before, I'm just writing about these places to give you a resident's perspective and some fun ideas of things to do when you visit our town. If you're looking for a history lesson, this isn't it. However, I will provide several links throughout this post if you'd like more detailed information on our bluffs. Sound good?
Barn Bluff, also called Mt. La Grange, is the biggest bluff in town. It's probably the one you'll notice when you're walking around downtown, visiting the many quaint little shops on Main Street. The only way to get to the top of Barn Bluff is to hike. You can access the path on East Fifth Street. It's a pretty good hike to the top, so you'll want to go prepared. Bring plenty of water, and maybe a little snack. If you're a rock climber, you can climb the east side of Barn Bluff. Either way, you will be rewarded with an amazing view of the Mississippi river valley when you reach the top. We've hiked to the top on several occasions. I always get goosebumps when I think of how one of my favorite writers, Henry David Thoreau, walked the same paths to the same vista on June 23, 1861 when he came to Red Wing on a nature expedition.
Sorin's Bluff, the location of a 268 acre park and WWI memorial, can be accessed via the 600 block of East Seventh Street. You can walk or drive to the top of this bluff. It's a great place to fly a kite, have a picnic, cross country ski, and mountain bike. There are caves to explore, a disc golf course, and a scenic overlook of downtown Red Wing and the river. If you decide to hike to the top or Sorin's bluff in the spring or summer, don't forget your bug spray, the bluff is covered in beautiful plant life, and trees…and the mosquitoes can be a little aggressive. 😉
Hope to see you soon!
~Melissa
You may enjoy these related posts: