Print Friendly Version
"Why, it's like a dream. A wonderful dream come true." ~Cinderella
I'm thinking about party themes today. I filled out, addressed, and stamped the invites to my grandbaby Madeline's birthday party and got them all in the mail yesterday. I can't believe she's already going to be one! How time flies.We're doing her party in a circus theme. I'll be sure to take lots of pictures and share them with you! It's going to be so fun.
I'm also planning my annual birthday soiree…more on that later…
All of this planning got me thinking about Gracie's princess themed party a couple years ago. I thought it might inspire you if you're looking for a party theme to celebrate a little girl you know. 🙂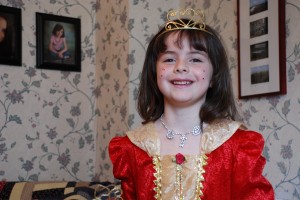 A princess party gives little girls the opportunity to wear those princess dresses you probably spent too much money on but just had to buy because they're so darn cute! Little girls LOVE to dress up!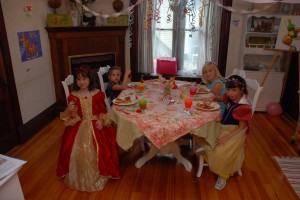 I just used a pretty pink table cloth I already had instead of buying the cheesy plastic Disney one from Target. Much more elegant, frugal, and Earth friendly. The only other decorations were balloons and streamers. We kept the menu simple: Princess Pizza, Princess Punch, cake and ice cream. We played a couple traditional party games like pin the tail on the donkey, and the clothespin in the jar game. I rented a Disney Princess sing along and game DVD, which kept them busy for about a half hour and they absolutely adored it. My daughter Andrea did Princess makeovers which included: nail painting, face glitter and perfume application.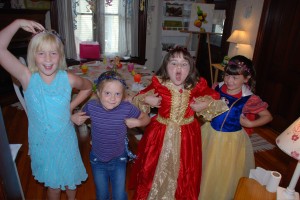 And of course there was plenty of time to just be silly 🙂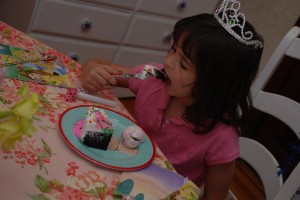 The birthday girl enjoying cake and ice cream, no longer in the fancy dress, but she kept the tiara on all day…and who can blame her? 🙂
You may enjoy these related posts: