Print Friendly Version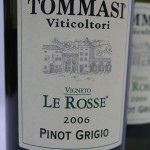 This past Sunday was a dream come true. We made a special date to get together with some of our best friends and we had great weather. This almost never happens in Minnesota. We grilled some bison burgers, had some crudite with dip and soaked in the summer sun at a local park set in a little inlet here on the Mississippi River in Red Wing.
Heather and Tom have impeccably good taste. They brought us a bottle of wine that was out of this world. Heather said it's one of her sister's favorites and I'm not surprised. Beth is a classy gal 🙂
This wine was moon yellow in color, had an enticingly spicy fragrance, and tasted of golden apples, dandelion greens, and anisette. This is one of the most unique Pinots we've had… ever! Thanks guys!
You may enjoy these related posts: