Print Friendly Version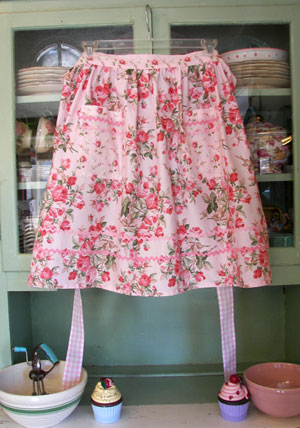 one of Sandy's beautiful creations…
I would like to welcome a new guest blogger, Sandy Erdman. She is not only a talented seamstress, she is the columnist for Rochester Post Bulletin's "Antiques & Collectibles" column. I am honored that she agreed to write for my blog.
Sandy Erdman ~Apron Lady of Winona , Minnesota !
A NOTE FROM SANDY 'S Desk: The New Shabby Chic Look…..
Several antique pieces can be found at Magnolias, Winona but one feature that this shop has is Sandy 's Sweet Nothings© aprons.  Some people just don't like the old antique apron, but like the antique look in fabric and they also like their fabric apron to go with their kitchen décor.
Sandy 's Sweet Nothings © introduces a new fashion line of designer cooking aprons.  The high quality cooking aprons are 100% cotton made to protect clothing when spills occur with fabric purchased not just locally, but from New York to California and other areas throughout the country.  I offer kitchen aprons for the little cooks, tween cooks and adult cooks.  Along with matching Mother/Daughter looks.
No, we don't have a web-site and don't plan on one since all our items are personal custom made items. One of a kind!
Movies and television have long influenced what is popular and the abundance of cute, classically styled aprons in my line can be traced directly to those ladies of Desperate Housewives who by donning a flouncy fabric apron to protect her elegant attire, Bree almost single-handedly ushered in the revival of these fashionable cover-ups.  Granted, some wider trends are adding to the apron's resurgence, most notable the return of more feminine styles and designs and Americans' love affair with entertaining.  The combination of all these influences is making aprons a favorite among today's hip homeowners. Years down the road they also will become wonderful keepsakes full of memories of baking cookies with grandmother, gardening with your mom, or helping dad with the bar-b-que. There are several fabric designs to choose from, ranging from modern to vintage and to retro fashion prints. Cooking has never looked so good!
Media News: Featured in The Winona Daily News, LaCrosse Tribune, Rochester Post Bulletin, St. Paul Pioneer Press, the USA Today, Vintage Apron web-sites, Antique  and The Country Register papers throughout the US & Canada and KSMQ-Austin Public Television, YouTube. Guest speaking at a Rotary clubs, conventions, teas and Mother/daughter luncheons and more on the history of aprons up to the current apron trend of today aprons as found in Sandy 's many articles.
How Did I Get Started? In 1969, my family lived in Rochester , Minnesota and I entered the wonderful world of motherhood and with a son who wore-out the only part of his pants that being on the knees. I decided to cut out fabric animal patches that would match his shirts and socks.  Well the idea spread but it wasn't a real life long dream of mine to sell them but folks did want the sets and bought them. I also added pillows and wall-hangings that did appear in the 1994 Gooseberry Patch catalog. I started to display at various places and to some friends.  Having grown up in Winona, I and my family moved to Winona and throughout the years of many successful endeavors, it was quite apparent that in my retiring years that I would start my own home based business, I worked hard and found success in the crazy fabric world.  In 2005, I entered the world of women's fashions with the line of aprons.
The inspiration for Sandy 's Sweet Nothings© actually came simply from doing some apron research and as often do some inspirations come at night.  One night while cooking I reached into a kitchen drawer and discovered    an apron made for me many years earlier as a gift from my grandmother.   The apron had long since been outgrown. Memories came flooding back and I vividly recalled baking bread with my grandmother. This connection with simpler times has never wavered and to this day, I love to cook with an apron.  That's when I decided to create the line of aprons designed to touch the lives of people in a nostalgic way.
Group looking for a guest speaker? Aprons are a part of our American History & Memories from the Past to the Current Trends….The sharing of vintage aprons and new aprons with church, assisted living, sewing or any group. Take home information on how to preserve your aprons.  Be inspired to collect or make an apron.  Win a new apron or a cookbook to be added to your collection…Appraisals are also done….Make an apron or bring an old apron to "show and tell" as this is what the apron presentation is all about you and your apron!
If we listen to the stories that aprons tell, we can learn about women's historical roles, fashion trends and twentieth century American culture. Using some of my collection and your aprons I will share with you the joy of this American folk art.
Guest Speaking on Children's Aprons… Now doing apron groups with children at schools, camps, libraries and museums…Children love and wear aprons too.  Make a paper apron and learn from our aprons the history and the role the apron plays in everyday life…Also show & tell and win a new apron too…….
Spend one day a month with Aprons & Quilts: Tie One On apron & Quilt group meets on a quarterly basis. Next meeting will be Thursday, September 9th at 10:00 am in the meeting room at Beno's located at 4th and Lafayette Streets, Winona..…. Come and make exchange of fabric or whatever. You don't even have to know how to sew!  We will be meeting on a seasonal basis.
Come join us for coffee, aprons and even quilt talk…Sign up for Sandy 's email newsletters. Apron information, local apron news, coupons from local merchants and more…..
Send your email address to:
Thanks Sandy!
~Melissa
You may enjoy these related posts: