Print Friendly Version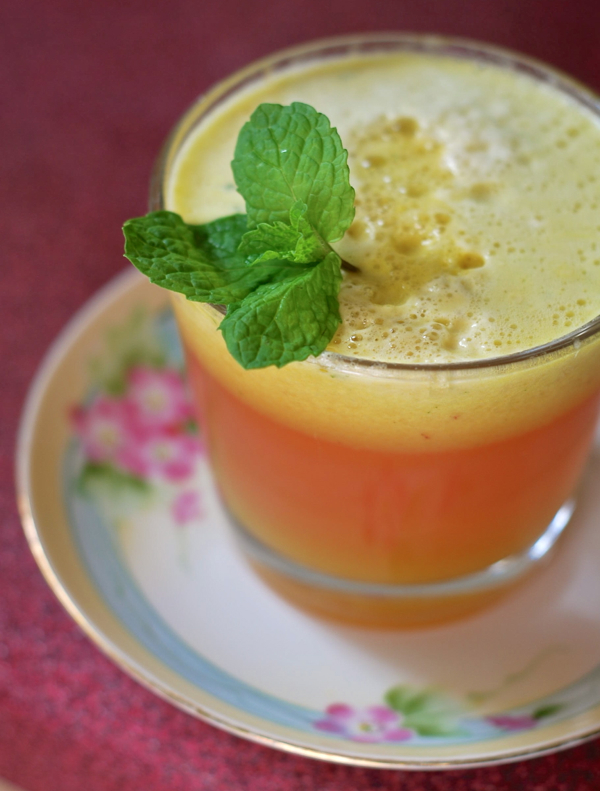 We've been playing with the juicer again and coming up with some yummy new flavors. Fresh fruit juices have so many health benefits and they're refreshing and delicious. Perfect for summer!
Beauty benefits of this juice:
Apple ~ detoxifies, rich in antioxidants, anti-inflammatory, protection against UVB damage from the sun's rays, natural antihistamine, natural wrinkle fighter, good for digestion and overall skin health.
Pineapple ~ anti-inflammatory, helps maintain healthy hair, awesome for blood circulation.
Lemon ~ detoxifies, boosts immune system, strengthens blood vessels, good for liver and digestion, blood purifier, natural diuretic.
Mint ~ eases indigestion, detoxifies, natural breath freshener
to make 1 serving of juice (approximately 1 cup) :
1 small, organic red apple, unpeeled
1 cup fresh, organic pineapple chunks
1/2 large, organic lemon, unpeeled
small handful of fresh, organic mint sprigs/leaves (any type)
Cut apple into slices and remove stem. Cut pineapple into chunks. Cut lemon into small slices. Process fruit through your electric juicer according to manufacturer's directions, adding the mint at the same time as the fruits. Place an extra sprig of mint on top of glass and serve immediately to enjoy the maximum nutritional benefits of this beverage.
Cheers!
~Melissa
You may enjoy these related posts: